4 years over and University is finished.
I have very mixed emotions leaving University; sad to leave great friends, student life and unique opportunities. Not so sad to leave academic life, lectures and exams!
As I have done for each year completed so far, I'm now sitting down to reflect on what I've learnt this year. It's a strange one, as I feel like this year has been the start of new kinds of learning, yet without as many 'conclusions' or 'lessons' to share. Regardless, here are 3 things I do believe I can pass on from this final year of University life.
1 – The world isn't binary
I think University is a place where many people begin to formulate their ideas and views of the world – me included (as is evident in this website!).
One thing that struck me this year is the number of binary opinions people have. A topic has answer X and not answer Y. It's easy to see this in political discussions; "are you left or right wing?"
I always like to have an opinion on something and, perhaps through the naivety of youth, I thought a lot of my views were good ones.
This year I've really started watching and listening to more 'thought leaders', for lack of a better title. Podcasts from Joe Rogan, lectures from Jordan Peterson, debates with Stephen Fry and so on. Some are very political, others religious, and some intellectual. It's been a bit of a marathon of idea exploration and thought development.
The number one thing I have taken away from these – the world isn't binary and it is foolish to have opinions that also are (unless you fully understand why!). I found my opinions being pulled to pieces when listening to podcasts and suddenly realising why I might be wrong. Then suddenly another interview would agree with my original belief. Who's wrong? Well, maybe neither. Context matters, added levels of understanding change outcomes and situations evolve. Meaning, we shouldn't have categorical opinions because the world is too complex for them to hold true all the time.
If you'd like an example of what I mean, check out this video (38:20). Jordan Peterson and Joe Rogan discuss the phrase "it's not winning, it's taking part that counts". I guarantee many, many people are on one side or the other, but they couldn't explain why or how it holds in different situations. Just listen to the break down from Jordan Peterson. I know my opinion changed several times just watching this video.
2 – Fake it 'til you make it
University is one big experiment in the Dunning-Krueger effect.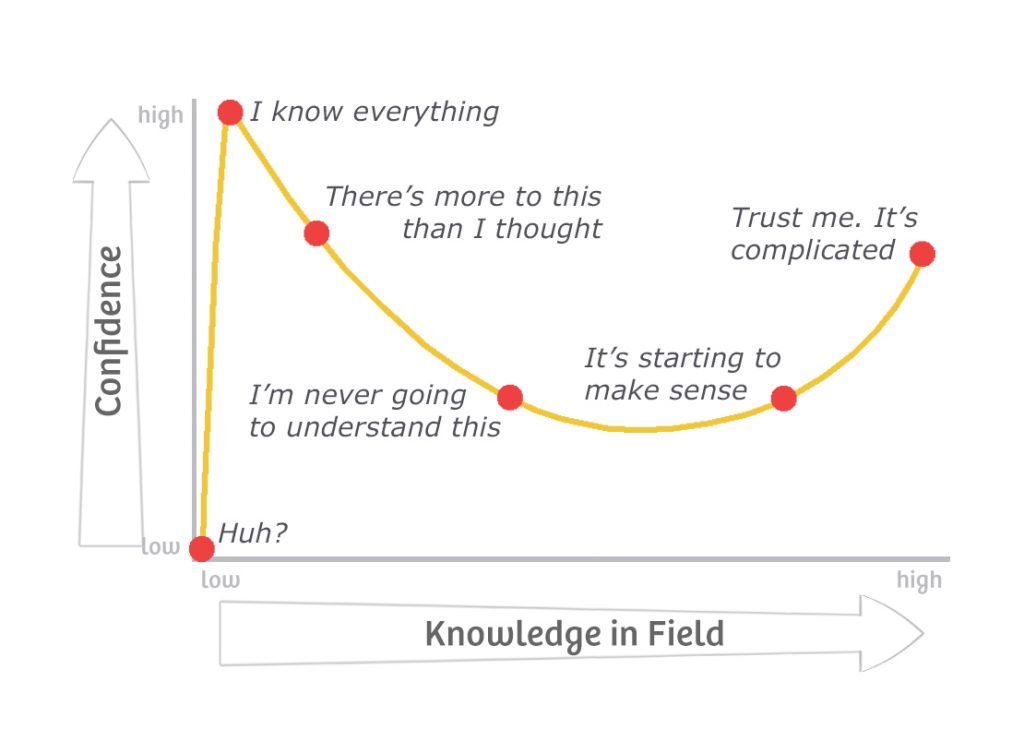 The 4 years are a journey of confidence, shock, worry, hope and then ending with competence. The whole experience is a summary of mini Dunning-Krueger effects, whether that's for a new module, joining a society or going to an event. Ultimately most people realise they are capable and personally I feel many people were capable from the start and their worry and stress wasn't needed.
I think back to a lesson I was taught early on by a friend who at the time was in their fourth year. Act with confidence that is above where you feel it is because, in reality, your ability exceeds it all.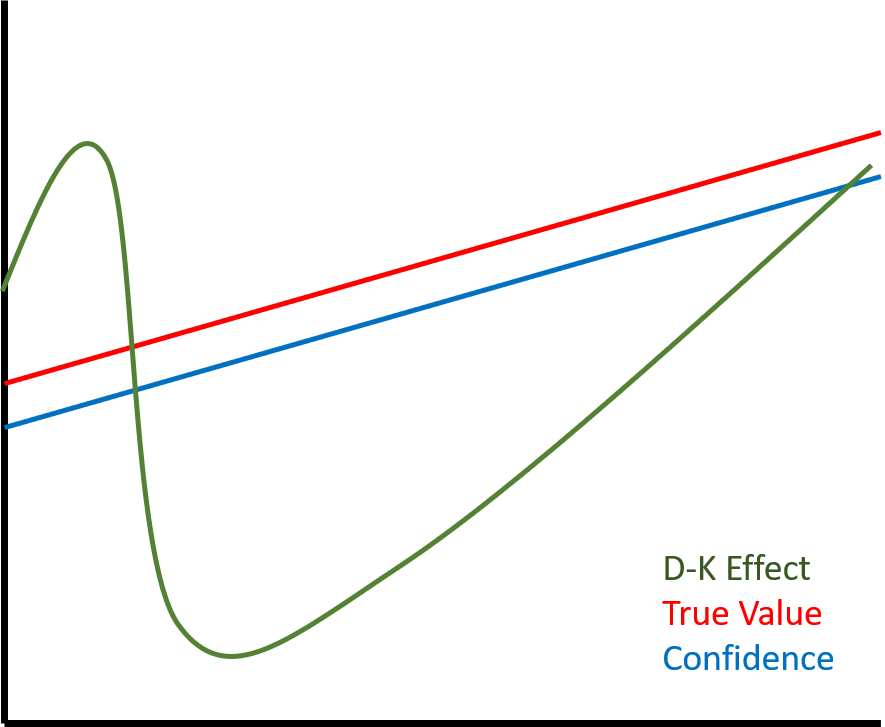 Imagine how much better it would be to have a more consistent view of your ability. You'd be more productive, happier and achieve more through higher belief. It's having the confidence to say yes to projects or to join executives or take on a harder topic for a piece of work.
Now, there is the pitfall that if your confidence exceeds your true value it can end badly. I guess a lot of people will have read the above and alarm bells of being perceived as arrogant start ringing. For me, the solution is through external checks from those around you. Do people trust you? Do they show faith in your abilities? If so, then your confidence is justified. However, if you don't have the respect and faith of others, then maybe you need to consider why.
"Fake it 'til you make it" is somewhat of an extreme way of putting this view. In fact, there is nothing fake about it if you do actually have the underlying ability.
3 – University was the right choice for me
Amongst my friends and I, towards the end of our time at University, we actually spoke quite a lot about whether University has been worth it. Not just the cost, but also the time; could it have been better spent?
There's a whole world of opportunities prior to University; degree integrated apprenticeships, going straight into a job, or even starting your own company. I'm meeting more and more people from varied routes and it isn't clear that one option is better than another. University gives you a stepping stone into graduate roles, yet apprenticeships could get you to the same level after 3-4 years and you've been earning from day one. I have friends who would not do University again if given the choice, not because they haven't enjoyed it or found it beneficial, but because they value the 3-4 years of work experience that could have been gained otherwise.
I am certain that University was the right choice for me. Not because of the degree gained or what I've learnt from my course, but because of everything else. People I've met, experiences I've had, and endless life lessons learnt. I was once told that our Vice-Principal says to new students "if all you do is leave here with a first class degree, then we have failed you. University is so much more than a degree."